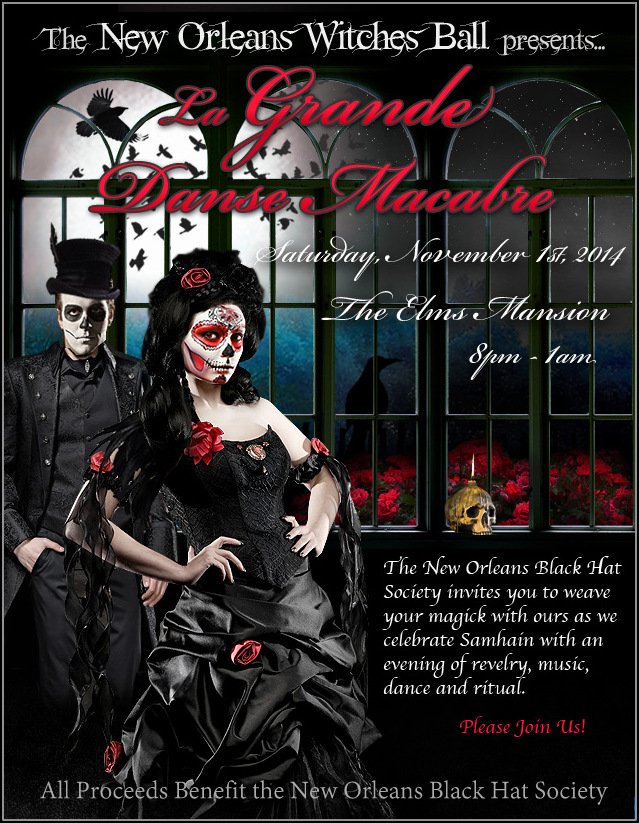 Gather with the Witches of New Orleans as we kick off the dark half of the year with a magickal evening of masquerade, food, drink, music, contests and prizes, ritual, and an all-around revelry that can only be found in the Crescent City!
All proceeds from this fundraiser gala go directly to support the New Orleans Black Hat Society's philanthropic endeavors. Pagans and Witches of all paths, as well as open-minded friends and supporters, are welcome!
---
Highlights of Your Enchanted Evening In New Orleans
Enjoy the celebration with our charming Master of Ceremonies, Devin Hunter.
Feast on an array of sumptuous hors d'oeuvres and other New Orleans delicacies.
Concoct your favorite witchy potion at one of our two OPEN bars.
Query the fates with a free reading in our Parlor of Destiny.
Rock your gypsy soul with Jasmine Cain in the Ballroom!
Make a bid at our Silent Auction to win something witchy and fabulous!
Indulge in a little tête-à-tête under ancient oaks and starry skies in the lush garden.
Win great prizes in the 'Best Theme Attire' and 'Best Witch's Hat' costume contests.
Watch The Mudlark Puppeteers bring their spooktacular puppets to life.
Receive exclusive NOWB giveaways from our event sponsors.
Leave a private message for your Beloved Dead in the Memento Mori Urn.
Honor your Beloved Dead at the Ancestor Ritual with Morpheus Ravenna.
'Pass a good time' in magickal New Orleans with witchy friends from near and far!
---
Event Details
When:
Saturday, November 1st, 2014 – 8pm-1am
Where:
Van Benthuysen – Elms Mansion
3029 St. Charles Avenue
New Orleans LA 70115
Dress:
Creative Black Tie ~ FORMAL Costume
Please see our FAQ for details and visit our Pin Board for ideas and inspiration!
Ticket Info:
Early Bird VIP Tickets $139 SOLD OUT!
VIP Tickets $154 SOLD OUT!
Fashionably Late VIP Tickets $179
Click here to purchase yours!
Hotel:
Our host hotel for 2014 is the Hampton Inn New Orleans, located directly on the streetcar line at 3626 St. Charles Avenue in the heart of the Garden District! Rooms are available for booking now! To reserve yours at our special rate of $179/night, please click here to use our event-specific link! Remember that a minimum Friday and Saturday two-night stay is mandatory for this block. See our FAQ for more details!
---